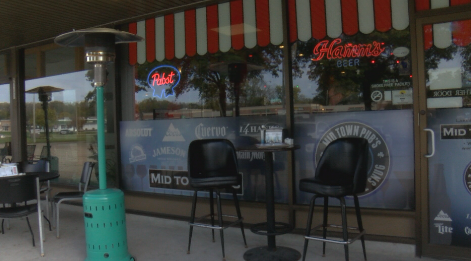 MIDDLETON (WKOW) -- Even in colder climates, patios are a popular commodity year round--especially during the pandemic.
Now that the season is changing, many local restaurants are working to winterize them.
At Mid Town Pub, owner Joel Egan said fall is one of the restaurants' busier seasons, so there is a lot of work to be done both inside and outside on the patio.
"We're putting plants to bed, sweeping things up, blowing the leaves off, making sure we have wind breaks," Egan said.
Egan attributes the business to sporting events, holidays like Halloween on the horizon and snow birds sticking around longer than in years' past. To prepare, he has set up half a dozen space heaters in both the front and back patio of the Pub.
"We do have the heaters and we have blankets too. If they want blankets, we give them blankets," Egan said.
Across town, Joe Turner, general manager of the Free House Pub, said the change of season has not slowed business down. In fact, outdoor seating continues to be popular.
"Especially right now with everything that's going on with the pandemic, people like to sit outside due to the open air concept," Turner said.
In addition to outdoor space heaters, Turner said they plan to add festive decor and drinks to match the cooler temperatures.
"We do plan on decorating. We're going to have a menu change come November 2nd. Fun, new cocktails. A lot of new food items on the menu as well," Turner said.
Meanwhile, at Vintage Brewing Company in Madison, management has taken heating to another level with overhead heaters in addition to space heaters to keep guests on their patio comfortable.